Everyday, Puentes de Salud, a volunteer-run clinic in South Philadelphia, serves the uninsured Latino immigrants of the community. A moving and human examination of immigration and health care in America today.
Program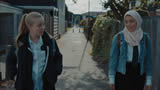 12PM selection of Audience Favorites & Jury Award Winners:
There are certain moments in life when the stakes feel so high that the right decision is not always clear. The characters and subjects in these films face decisions that will permanently change who they are in the world.
film details
| | |
| --- | --- |
| Director: | Maxim Pozdorovkin |
| Producers: | Jenny Lim |
| Cinematographers: | Joe Bender |
| Editor: | Jeanne Applegate |
| Music: | Leonardo Heiblum, Jacobo Lieberman |
| Cast: | Steven Larson, Daphne Owen, Jack Ludmir |
| Country: | U.S. |
| Language: | English |
| Deaf Friendly: | Yes |
| Year: | 2016 |
| Running Time: | 39 minutes |
| Awards: | Jury Award for Best Short, Full Frame DocFest |
| Display Format: | DCP - 2D |
| Website: | thirdpartyfilms.com |